Swiss Airlines Pet Policy
According to the swiss air pet policy, pets are welcomed onboard domestic and international flights in Switzerland.

Passengers can bring their pets in the cabin, in cargo, or in the hold of the aircraft as checked baggage. Pets are accepted only once they have reached the age of 12 weeks.

Swiss air pet regulations do not allow cats and dogs on certain flights.

By looking through you will get all the details regarding Swiss airlines pet policy.
Swiss Airline Dog Policy
---
Traveling on a swiss airline flight each passenger is allowed to carry 2 animals along with them and the pet must be of 12 weeks or more.

Swiss air pet transport can be in the cabin, in cargo, or on hold.
Swiss Air pet in cargo
---
Animals that are traveling on their own, or to countries that require them to be transported as cargo or freight, can be shipped using Swiss World Cargo.
Swiss Air pet in hold
---
Animals must be transported in the hold as checked baggage, pets must not be pregnant or dangerous and must not be smelly.
Passenger must be at least 1 hour prior to the latest check-in time indicated on the ticket at the check-in counter.
Pet carrier dimensions and weights
---
| | |
| --- | --- |
| 57 x 36 x 37cm | 4kg |
| 71 x 50 x 51cm | 6kg |
| 82 x 57 x 60cm | 8kg |
| 93 x 65 x 68cm | 11kg |
| 105 x 75 x 79cm | 14kg |
Swiss Air pet in cabin
---
As per swiss international airlines pet policy, swiss will allow only dogs and cats weighing up to 8kgs in the cabin.
The carrier must be clean, escape-proof, soft kennel and pets can comfortably stay in the carrier, and the kennel must be under the seat for the entire flight.
Swiss air pet carrier dimensions must not be more than 55 x 40 x 23 cm.
Your pet has all health documents required by your destination. passengers should consult their veterinarian to make sure that their animal will comply with all requirements.
For the duration of the flight, the pet must remain fully in the kennel and the container under your seat. Due to the nature of seats, containers cannot be stored under the seat in Swiss air business class or in the cabin on Airbus A330 and Airbus A340 aircraft.
Swiss Air pet travel cost:
---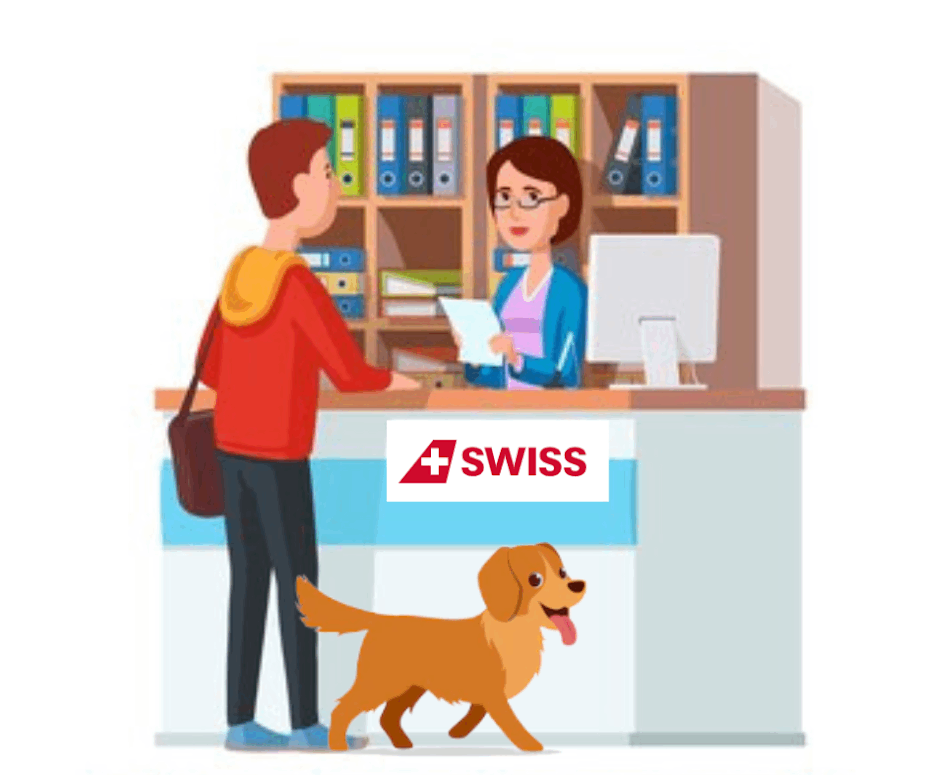 The Swiss air pet fee depends on the route where pets are transported.
Routes
Transport in the cabin
Transport in the hold as checked baggage
(Max weight 8 kg)
Kennel size
(57 x 36 x 37cm)
Kennel size
(71 x 50 x 51, 82 x 57 x 60, 93 x 65 x 68, 105 x 75 x 79)
Switzerland-Europe
CHF 60
CHF 120
CHF 240
Switzerland-Intercontinental
CHF 90
CHF 180
CHF 360
Within Europe
EUR 50
EUR 100
EUR 200
Europe-Intercontinental
EUR 70
EUR 150
EUR 300
Intercontinental-Europe
USD/CAD 100
USD/CAD 200
USD/CAD 400
Swiss Airlines emotional support animals policy
---
According to swiss air esa dog, swiss airlines no longer allows Emotional Support Animals (ESAs) for travel. Only registered and professionally trained Assistance & Service Dogs are accepted to travel in the cabin free of cost.
Frequently Asked Questions
---
Swiss only transports dogs and cats in the hold as checked baggage or in-cabin except for snub-nosed (brachycephalic) breeds of dogs, hares, rabbits, and cats are particularly sensitive to temperatures.
Totally depends upon the country's destination, different rules apply for traveling with pets by swiss air. You should book your travel in plenty of time and present your pet's documents, which include health and vaccination certificates and import, export, and transit papers.
Passengers can travel with their Assistance or Service Dog in the cabin free of cost with Swiss Air. As per swiss air service dog policy, you have to make the request during booking and no less than 48 hours before your departure of the flight.
call us